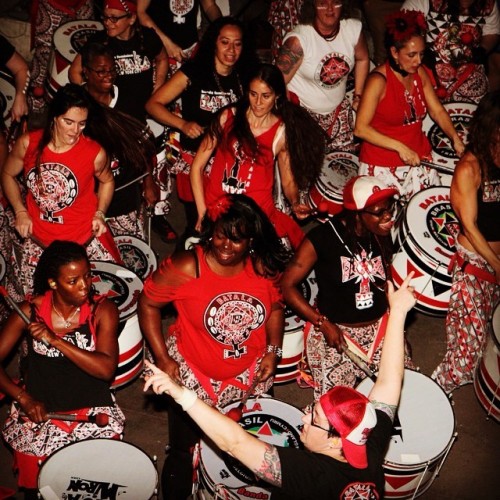 Editor's Note: While there are some great guides to the North Brooklyn festival out there, most favor the big name bands. Those are the bands that you're most likely to already be familiar with, and also the shows that are most likely to sell out or have long lines to get in. That is why we are proud to present you with our comprehensive, day-by-day recommendation guide to the music festival, organized in chronological order, and streamlined with just enough information for you to discover the perfect shows for your very own musical tastes and moods.
You will hear your new favorite band at a local club during the Northside Festival this long weekend. That is our claim. Welcome to heaven.
How can we support such a statement? Start with an amazing set of bands (recommendations below). Add McCarren Park shows and some bookings in romantic backyard spaces, then include some distinctly easy-going and non-judgmental locals, i.e. you, fueling the scene.
Then remember how you rarely need to wait in line at Northside. Here are our favorite acts playing tomorrow. Continue reading →
Category:

Art/Music, Culture, Events
Tags:

Adam Torres, Alphaville, Armstrong Leigh, Attic Abasement, bar matchless, Batala NYC Band, Big Huge, Brooklyn Bowl, Cameo, Chris Forsyth & Solar Motel Band, Cultfever, Diet Cig, Ed Schrader's Music Beat, Femi Kuti, Grand Vic, Laura Cantrell, Lou Reed, Ludlow Ejacula, McCarren Park, Memorial Gore, Muchmore's, New Myths, Northside, Northside Festival, Northside Music Festi, Okay Kaya, Pussywolf, Rig1, Ringo Deathstarr, Rivergazer, Robot Moonjuice, Shea Stadium, Sic Vita, Sorcha Richardson, The Business, The Grand Victory, The Midnight Hollow, Tim Hardin, trash bar, union pool
0 Comments