Receive What's Happening? via email!


There are more events in our weekly calendar. Submit Greenpoint events, too!
THURSDAY 5/16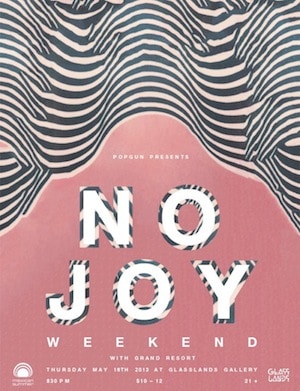 ☺ Funny Story @ Brooklyn Brewery (79 N.11th St) 8pm, $10, an evening of beers, laughs and weird times featuring, Amy Sohn (Park Slope chronicler), Ed Gavagan (NPR's The Moth Radio Hour), Maude Sernas (line cook, farmer, tattoo artist and lurker) and Anton Shuford (comic), More Info
♫ No Joy / Weekend / Grand Resort @ Glasslands Gallery 8:30pm, $10, RSVP
♫ DJ HemingYeh and Cormac McBootay @ Manhattan Inn (632 Manhattan Ave) 11pm, FREE, Brooklyn's favorite/only literary DJ duo returns spin a mix of Northern soul, post-punk, '70s/'80s, old school rap and hip hop RSVP
FRIDAY 5/17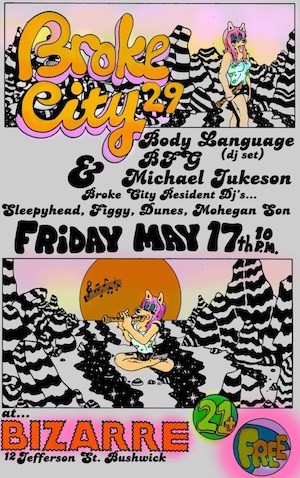 ♦ Elliott Sharp: Foliage @ Reverse Space (28 Frost St) 5/17-5/26, 7-9pm, Musicians perform Sharp's Foliage: a long-form graphic music score that offers abstract instructions allowing for infinite possible interpretations, RSVP
♥ Broke City: Body Language / BFG / Sleepyhead / Figgy @Bizarre (12 Jefferson St, Bushwick) 10pm, FREE, RSVP
SATURDAY 5/18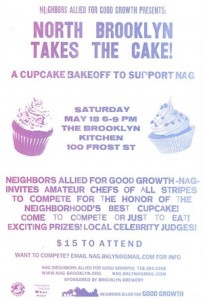 • Go Green! Greenpoint Festival @ McCarren Park, 11-5pm, FREE, Recycle your electronic waste, eco-friendly and educational displays, health & wellness tips & demos, arts & crafts, children's activities, live music, More Info
• Spoons, Toons & Booze @ Nitehawk Cinema (136 Metropolitan Ave) 11:30, $15, an afternoon of animated childhood favorites such as DuckTales, The Smurfs, Looney Tunes and Scooby-Doo plus choice of sugary cereal, regular brunch menu; and a full bar, More Info
* North Brooklyn Takes the Cake @ The Brooklyn Kitchen (100 Frost St) 6-9pm, $15, Cupcake bake off to benefit NAG! Come to compete or just to eat and drink, prizes, RSVP
♫ Love as Laughter / Starlight Girls / Birthdays / The Feverbreakers / Honduras @ Shea Stadium (20 Meadow St) 8pm, More Info
 SUNDAY 5/19
• The Punk Rope Games @Newton Barge Playground (Commerical & Dupont Streets) 10am-1pm, $80 per team, suggested, feature teams of 4 in costume competing in 9 events, After Party @ Diamond Bar 1:30-4pm, More Info
• Circuit Building and Bending Workshop & BBQ @ The Living Gallery (1087 Flushing Ave) Noon-5pm, FREE, Learn how to build and bend your own instruments, materials will be available and bring grillables, RSVP
♦ Language Objects: Letters in Space, 1970 – 2013 @Southfirst (60 N6th St) Opening 4-6pm, FREE, a retrospective exhibition tracking the evolution from early typewriter-generated forms to more recent four-color drawing poems in the work of American poet Robert Grenier, More Info
♦ Arts in Bushwick Benefit @ Grace Exhibition Space (840 Broadway, 2nd fl) 6-9pm, FREE, 50 BOS participating artists will be showing in this years Benefit preview and art sale, More info
♫ Shark? / The Woolen Men / Lame Drivers / Hippy @ Shea Stadium (20 Meadow St) 8pm, $8 RSVP
MONDAY 5/20
♥ Mac & Movie @ Miles (101 Wilson Ave) 6-11pm, FREE, Free mac and cheese (6-8pm) plus watch the Beastie Boy's film Awesome; I… Shot That! More Info
TUESDAY 5/21
♦ WagMag Benefit @ English Kills Gallery (114 Forrest St) 7-9pm, $20 Admission, $200 Artwork Raffle Ticket, guarantees an artwork, supports WagMag, Buy Tix
♫ Ingrowing / Gride / Ahumado Granujo / Mother Brain @ Saint Vitus (1120 Manhattan Ave) 8pm, $10, RSVP
*  Greenpointers' Pick
♫ Music
♥  Pheremones likely
♦  Art Event
☺ Comedy Event
#  Foodie Event
Category:
What's Happening?
Tags:

art openings, Brooklyn, Bushwick, cupcake, events, free events, Greenpoint, nightlife, screenings, shows, Williamsburg
0 Comments