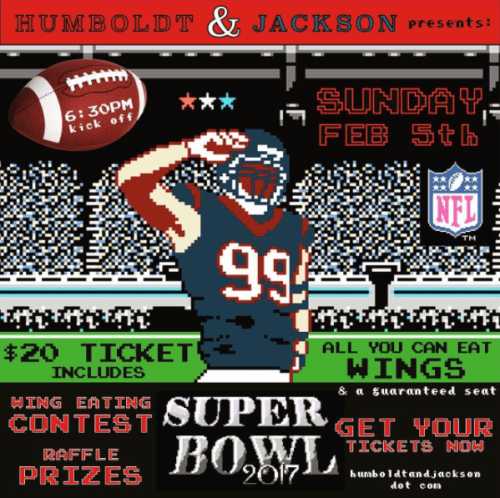 This is it, guys. This Sunday, the Super Bowl strikes again. Here's where to watch the game, what to eat, and where you can pick up food for your house party!

Humboldt & Jackson | 434 Humboldt St.
Super Bowl viewing party & wing eating contest! The event starts at 5:45, kickoff at 6:30pm. The game will be shown on their massive 190" projector screen with surround sound. All you can eat wings for $20, tickets available now!
Lobster Joint | 1073 Manhattan Ave.
Free beer from 6pm till keg is kicked! Heated backyard! Buffalo wings, buffalo shrimp, seafood nachos, lobster sliders, 106″ projector screen.
Moonlight Mile | 200 Franklin St.
"That is right folks… Super Bowl at the mile in a way that only we can do… Arrive early and claim your spot. Great people, drinks, service and fun. Cheers and rock on Greenpoint!!"
Continue reading →