This article made possible by a donation to our Writer's Fund by S.W. Basics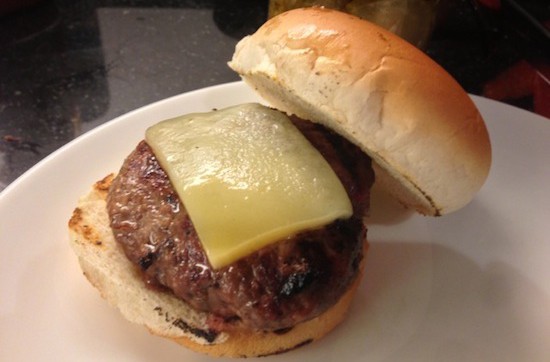 Fellow block & lot and rooftop chefs: Burger season is upon us. Let 2013 be the year you took your burger to the next level.  Your patty prep is key to getting compliments around the grill from your homies! There are a lot of things you can add to your beef before you grill to make it tasty. Start with quality beef. And try some of the following additions to the mix.  Just remember to go easy with quantity. If you are using butcher beef, you don't want to overpower a complimentary flavor with the natural flavor of fresh beef.  The following five ways to prep your ground meat are tried and tested, so give these ideas a chance for your next rooftop BBQ.
Half & Half  Use 50% ground pork with 50% ground beef. I hear a lot people say this is a Greek version of the hamburger, but my Italian grandmother made her meatballs this way, too. If you do want to go Greek, add some parsley and minced onion and squirt a little lemon on the patty right before you take it off the grill. Otherwise keep it simple with the mixture with good amount of fresh ground salt & pepper.
Soy Sauce Use a tablespoon of soy sauce for every 8 ounces of meat, mix thoroughly. I like to use my hands for all ground beef mixing. Your fingers can mix more efficiently than any stationary tool. Squeeze the beef in both hands in a big bowl. Add some fresh ground pepper, but no more salt. Don't forget that the soy sauce is all the saltiness that you need. Continue reading →
Category:

Eat & Drink, Recipes
Tags:

bbq, Burgers, caramelized, cheese, chopped, city cooking, Foodis Operandi, garlic, Greek, Greenpoint, grill, grilled burgers, Hamburger, italian, Ketchup, lettuce, minced, patty, pickles, Pork, prep, recipe, rooftop, salt pepper, saute, shallots, soy sauce, The Meat Hook, Thomas' English Muffins, tomato, Worchester, Worchester sauce
3 Comments