"That's how people who dance become people who dance. They dance."
There are more events in our weekly calendar. Submit Greenpoint events, too!
WEDNESDAY 2/27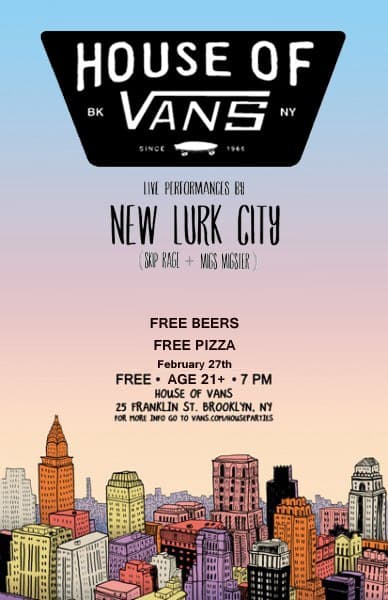 •Outrage:Traffic Issues in North Brooklyn @Saint Francis of Paola Church (219 Conselyea St) 6:30-9pm, Come Learn about The Illegal Truck Enforcement Task Force, A  presentation by New York State Department Transportation  on the Kosciuszko Bridge Project and the impacts on North Brooklyn and NYC DOT will be present to address issues of traffic in Williamsburg and Greenpoint RSVP
☺Heavy Metal Laser Plane: Comedy Show @Legion Bar (790 Metropolitan Ave) 7pm, FREE, Bryson Turner/Billy Prinsell/Tim Dillion/John Anderson RSVP
♫VANS House Parties w/ New Lurk City @House of Vans (25 Franklin) 7pm, FREE, Beer and Pizza also FREE More Info
♦Poetry Teachers NYC: Open Mic @Milk and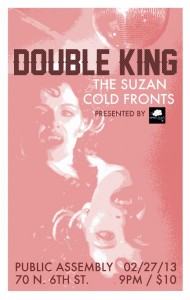 Roses(1110 Manhattan Ave)Sign up 7:30pm, FREE, Sing, dance, music, rap, comedy, poetry, or just come and be yourself! More Info
♫Little Big League/Pocket Hercules/Kerbivore/The Brooklyn What/RadKey @Shea Stadium (20 Meadow St, Bushwick) 8pm, $8 RSVP
♫Double King/The Suzan/Cold Fronts @ Public Assembly (70 N6th Street) 8pm, $10, RSVP
♫Heaven's Gate/Hurricanes of Love/Buck Gooter/Dyin' Breed @The Ho_se (28 Lawton St, Bushwick) 8:30pm, $5, RSVP
THURSDAY  2/28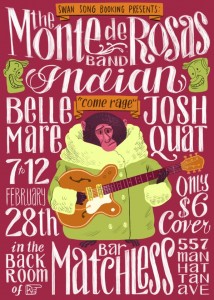 •Yummy Eats End of February Party @The Diamond (43 Franklin At) 7pm, Taste all kinds of fantastic snacks for $6 per plate or $20 for four plates! RSVP
*Artifact Official Grand Opening Party @Artifact (155 Freeman St) 8-10pm, FREE, Come celebrate Greenpoint's newest shop with wine from Dandelion Wine, beer from Radeberger Pilsner, Gin from Greenhook Ginsmiths with music provided by D.J.A.D.D. RSVP
♫The Monte de Rosas Band/Indian/Belle Mare/Josh Quat @Bar Matchless (557 Manhattan Ave) 8pm, $6 RSVP
♫Selebrities/Rush Midnight/Bowmont @Glasslands Gallery (289 Kent Ave) 8:30pm, $1o RSVP
♫Field Mouse/Napoleon/Family Photos & AK @ La Piazetta (442 Graham Ave) 9:30pm, $5 RSVP
♥Prince Klassen/Dope Shoes/rotating TTL DJs + special guests @Bossa Nova Civic Club (1271 Myrtle Ave, Bushwick) 10pm-4am RSVP
FRIDAY 3/1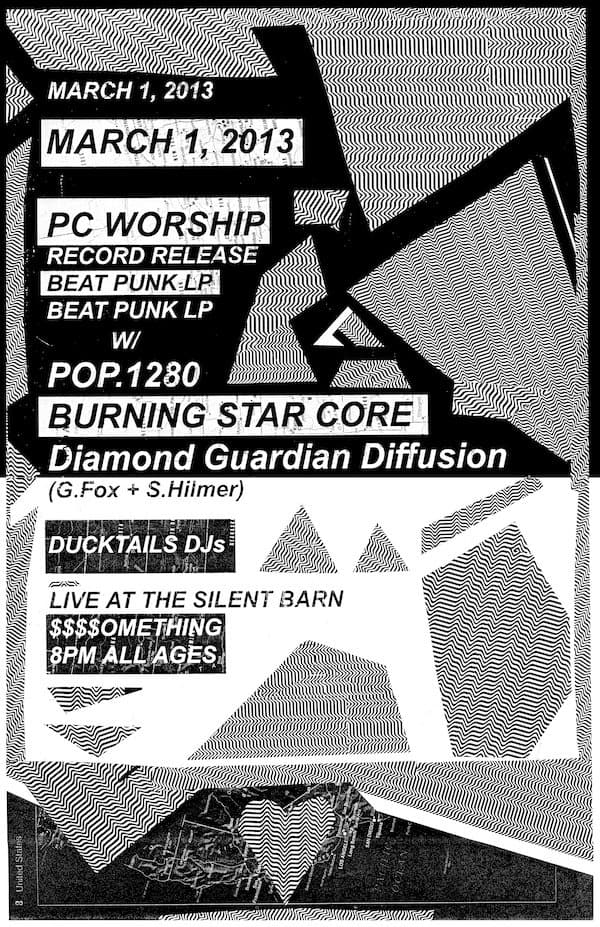 ♦Born Again² / FOUNTAIN SEND-OFF @Calico Brooklyn (67 West St, #206) 7-9pm, closing party for "BORN AGAIN" and simultaneously HI-FIVE Calico as they prepare to set sail for Fountain Art Fair! RSVP 
♦Nature Is Ancient: Icelandic Landscapes @The Yard (33 Nassau Ave) Opening Reception 6-9pm, FREE, Photographer Meg Wachter- inspired by the music of Björk and subsequent visit to the musician's homeland,"Nature is Ancient" documents the ever-changing and hauntingly beautiful volcanic landscapes of Iceland RSVP 
♫PC Worship "Beat Punk" LP release/Pop. 1280/Burning Star Core/Diamond Guardian Diffusion/Ducktails DJS @Silent Barn (603 Bushwick Ave, Bushwick) 8pm, FREE (donation suggested) RSVP
♫Samothrace, Howl, Pilgrim, Bezoar @Saint Vitus (1120 Manhattan Ave) 8pm, $12 RSVP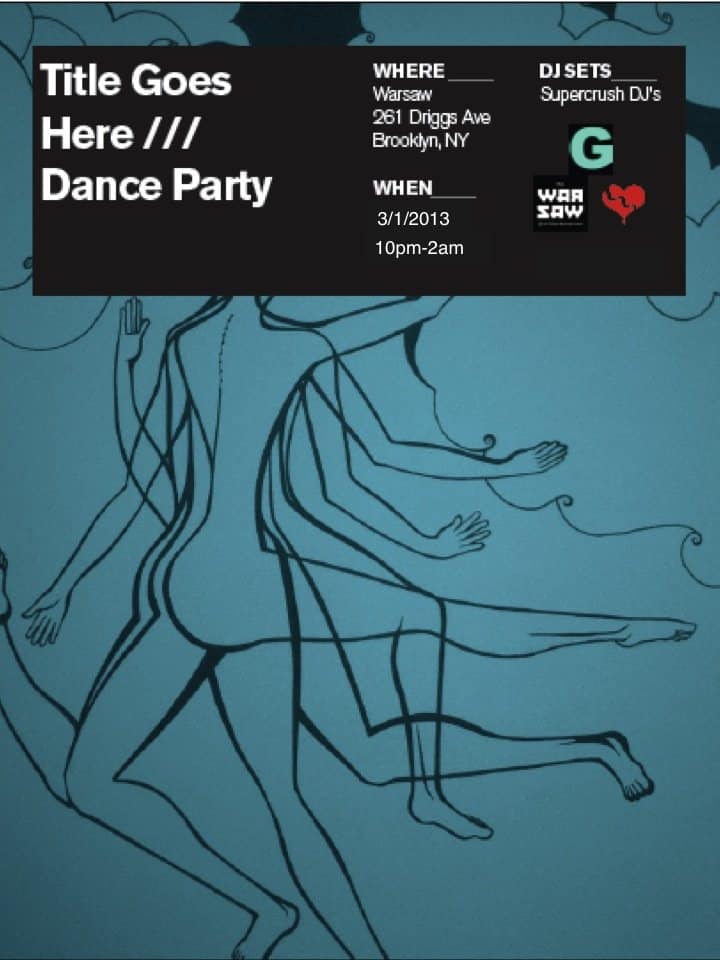 ♫Crush Distance/Sonic China Doll/Indian Rebound/Lucas Bros @Cameo Art Gallery (93 N. 6th Street) 8pm, $7 RSVP
♫Freshkills/Violent Bullshit/Chron Turbine @Union Pool(484 Union Ave) 9pm, $8 More Info
*Title Goes Here//Greenpointers Dance Party @The Warsaw (261 Driggs) 10pm-2am, FREE, Get your dance on with Greenpointers and Supercrush Studio DJ's, FREE Potato Pancake Buffet (10-11pm) and $4 Gin & Tonics! RSVP
SATURDAY 3/2
*Brooklyn Torch Trade Store @Dobbin Project Space (50-52 Dobbin Street) 2-6pm, Local currency project that provides a new paper means of exchange in North Brooklyn that circulates to support the resident community in North Brooklyn More Info
•Brew N' Chew @The Diamond (43 Franklin St) 4-6pm, $10/13, See the Swillin' Swines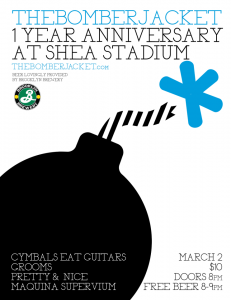 duke it out with the Green Grove Brewers, your vote will decide who wins! Entry fee gets you a taste of homebrew and snack pairing from each team and the proceeds will be donated to the Greenpoint Reform Church Food Pantry More Info
♫The Bomber Jacket/Cymbals Eat Guitars/Grooms/Pretty & Nice/Maquina Supervium @Shea Stadium (20 Meadow St, Bushwick) 8pm, $10 RSVP
♫Octo Octa/Maria Minerva/Pharoahs/Magic Touch @285 Kent 11pm, $10 RSVP
SUNDAY 3/3
Collect-I-Bowl Record Show @Brooklyn Bowl (61 Wythe)11am-5pm, FREE, Over 40 vendors and thousands of rare and collectable records into one room RSVP
•Stephan Pastis and Timmy Failure @Word (126 Franklin) 4pm, FREE, Bestselling author and cartoonist Stephan Pastis, introduces his first kids book, Timmy Failure: Mistakes Were Made, with a multimedia presentation and signing for all ages! RSVP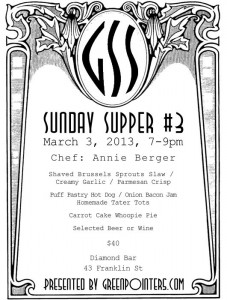 *Sunday Supper @The Diamond (43 Franklin) 7-9pm, $40, The third installment of Greenpointers Sunday Supper! Tix
♫Beach Fossils/Chris Cohen/Divorce Money/Lodro @285 Kent 8pm, $12 RSVP
MONDAY 3/4
•Boulevard Trivia Night @Boulevard Tavern (579 Meeker) 8-10pm, FREE, Test your knowledge and win prizes More Info
TUESDAY 3/5
•Things that I have to tell you right now @Cafe Royal (195 Nassau Ave) 7-9pm, FREE,  A monthly gathering of creative writers, dreamers, and other generally sensitive souls to unite and share their works with each other. Come and read, sing, show, and tell us anything you want under 10 minutes, participation optional.
☺The Trap: Comedy/Variety Show @Pete's Candy Store (709 Lorimer St) 8-10pm, FREE,  With performers from Comedy Central, Conan, Fallon and more! Hosted by Ashley Brooke Roberts
*  Greenpointers' Pick
♫ Music
♥  Pheremones likely
♦  Art Event
☺ Comedy Event
Category:

Events, Uncategorized, What's Happening?
Tags:

Brooklyn, bushwhick, comedy, community, Concerts, dining, events, Greenpoint, nightlife, open mic, supper clubs, Williamsburg
0 Comments