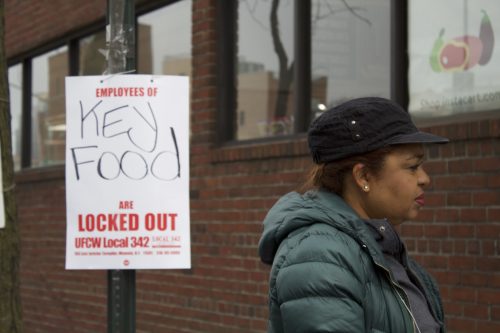 On Monday, Bonnie Mingo, a meat wrapper at Key Food (224 McGuinness Blvd) buried her mother. On Saturday, she was on strike.
With little time to mourn, Mingo suddenly found herself locked out of a job she's had for 20 years. "I'm still here supporting my coworkers when I could be out grieving. It's hard," she said in a late-afternoon interview, taking a break from picketing.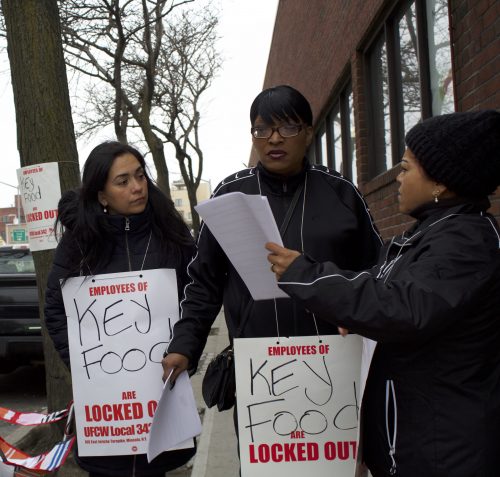 She, along with six coworkers, are battling Pick Quick Foods, Inc., a member of Key Food Co-op and owner of seven groceries in Brooklyn and Long Island. Approximately 35 other meat department workers in the company are also barred from returning to work in retaliation for a strike organized on Saturday, stated representatives from United Food and Commercial Workers' Local 342.
.@KeyFood union workers are ON STRIKE! The Greenpoint Key Food owner has locked out employees for fighting for healthcare, retirement and fair wages.

📣 Call 718-296-9100 today and tell them you stand with the workers! 📣 pic.twitter.com/taAR3XTfvn

— Elizabeth Adams (@ElizabAdams) April 7, 2019
Despite assertions that management refuses to negotiate, a public relations spokesperson from Pick Quick Foods disagrees. "We are waiting for Local 342 to return to the bargaining table," they wrote in an emailed statement.
Seeds of this past weekend's drama began last year when the owner of Pick Quick Foods, Benjamin J. Levine, and meat department workers started brokering a new contract after failing to reach an agreement years beforehand.
While there was the customary back-and-forth, Levine's terms were unsatisfactory. He was trying to "gut" the contract, declared Kelly Eagan, director of Local 342, in a phone interview. She said he was proposing to cut health insurance, pensions, annuities, and access to fair wages.
Pick Quick Foods, though, disputes Eagan's claim. "We have made offers to the union to continue competitive wages and benefits for our employees. However, the union continues to reject those proposals and is making demands that we believe will hurt our stores and customers and, by extension, our employees."
Tensions elevated last week. Eagan alleged that ownership abruptly went dark. "They didn't return any emails or call." Continue reading →