Braised by Wolves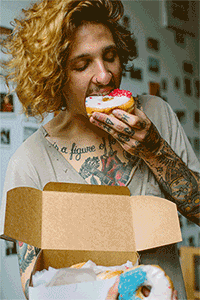 , a hilarious YouTube cooking show, is the brainchild of Ricky Aiello and Amanda Picotte. Shot about every other week primarily in their Greenpoint loft with Ricky in front of the stove, and Amanda behind the camera, they share creative recipes, cooking tricks, and wine tips. They brainstorm together on how to show the world that cooking is sincerely fun and not stressful. For them, it's a passion project for sharing their own form of edible entertainment.
Their shows are about making cooking truly accessible; even someone who stores sweaters (Oh, the stereotype!) in their oven can make many of these dishes…like the hilarious, easy, and tasty "vegan tostilocos."
Watch Ricky prepare "Vegan Tostilocos" on a boat.