There are more events in our weekly calendar. Submit Greenpoint events, too!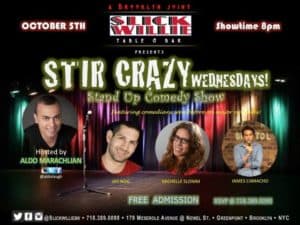 WEDNESDAY 10/19
☺ Stir Crazy Wednesdays @ Slick Willie (179 Meserole Ave) 8pm, FREE, A weekly comedy show hosted by Aldo Marachilian, More info
* Final Presidential Debate @ The Diamond (43 Franklin St) 9pm, FREE, With free popcorn both to eat and to throw at the screen, More info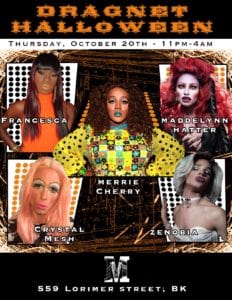 THURSDAY 10/20
* Damn Good @ Triskelion Arts (106 Calyer St) 8pm, $16, A performance art series that brings together artists whose work resists categorization and invites experimentation, Buy tix
* Pat October @ Union Pool (484 Union Ave) 10pm, FREE, With Ani Klang / Adam Radakovich / Volvox / JD Samson / OLIVE T / Amber Valentine, RSVP
* Dragnet Halloween @ The Metropolitan (559 Lorimer St) 11pm, FREE, With Maddelynn Hatter / Crystal Mesh / Zenobia / Merrie Cherry / Francesca, More info

Category:
What's Happening?
Tags:

Acme Studio, annoyance theatre, Antidote Apothecary, aviv, Big Sky Works, booklyn, Brooklyn Night Bazaar, Cloud City, crest hardware, Manhattan Inn, metropolitan bar, Moy Tun Ving Tsun Kung Fu, national sawdust, Saint Vitus, Slick Willie, The Diamond, Triskelion Arts, union pool
0 Comments