Greenpointers, get your helmets ready. The bicycle share company, Citi Bike, is doubling in size and Greenpoint is one of the first places on the list to receive the new bikes.
6,000 bikes will be added at 375 new locations by 2017. The expansion will begin in 2015 with station installations happening in northern Williamsburg, Greenpoint, Long Island City, and Bedford-Stuyvesant. 1,000 new bikes are expected to be in service next year.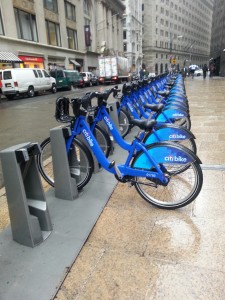 While popular, Citi Bike hasn't been without it's share of problems since it's inception in May 2013. The initial rollout was delayed a year because of software issues and damage to bikes after Hurricane Sandy. There have also been complaints of broken docks and kiosks as well as cracked seats. A lawsuit has even been filed about the bike designs. But none of this stopped 100,000 people from signing up for the ride-share program and riding 14.7 million miles in it's first year.