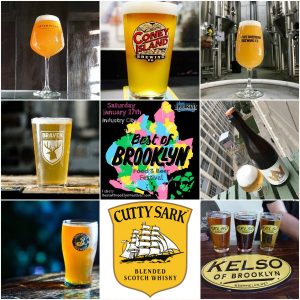 Start the new year off right by giving you a 20% discount on drinking unlimited craft brew and celebrating the best the borough has to offer at the Best of Brooklyn Food and Beer Festival at Industry City this Saturday, January 27th!
Tickets normally start at just $39.00 per session for unlimited beer tastings, but readers who enter discount code "GREENPOINTERS" on the ticket selection page will save 20% on admission.  [sponsored]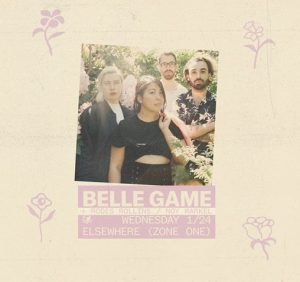 WEDNESDAY 1/24
♫ Happy Hour w/ Shapank (Birthday Set) @ Terra Firma (119 Ingraham St), 6pm, FREE, More info
* Dyeing with Nature @ Better Than Jam's (20 Grattan St), 6:30pm, $65, Learn to properly prep your fabrics, use natural materials to get lasting colors, and how to use modifiers to change shades or fix your work, Buy tix
♫ Belle Game, Rodes Rollins, Noy Markel @ Zone One at Elsewhere (599 Johnson Ave), 8pm, $12, Buy tix
♫ Radio Wonderland, D-Andra, Elle Pierre, Dark Alley Echoes RTFM @ Secret Project Robot (1186 Broadway), 8pm, FREE, More info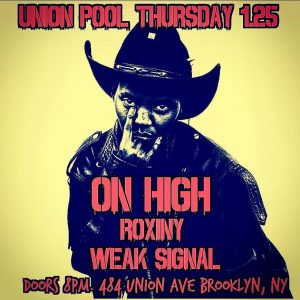 THURSDAY 1/25
# Burns Night @ MOFAD (62 Bayard St), 6:30pm, $30, Enjoy bagpipes, haggis (vegetarian included) and other Scottish delicacies, a guided Scottish whisky tasting courtesy of Johnnie Walker, and Robert Burns poetry recitations, Buy tix
* Spirit Book Club: Braiding Sweetgrass @ Root Mamma (236 Richardson St), 7:30pm, $10, Focus: The awakening of a wider ecological consciousness requires the acknowledgement and celebration of our reciprocal relationship with the world, RSVP
♫ The Sharp Shadows / Kangaroo / Glass Tactics / New Restaurants @ Gutter Bar (200 N 14th St), 8pm, $7, More info
♫ Roxiny, On High, Weak Signal @ Union Pool (484 Union Ave), 8pm, FREE, More info Continue reading →
Category:

Events, What's Happening?
Tags:

Alphaville, Archestratus Books and Food, Baby's All Right, Better Than Jam's, black flamingo, Diviera Drive, El Cortez, elsewhere, Gold Sounds, greenpointers, hosh yoga, legion bar, mccarren hotel, MOFAD, Our Wicked Lady, quimby's bookstore, Root Mamma, Rose Gold, rough trade nyc, sacred arts research foundation, Secret Project Robot, shaktibarre, Sunnyvale, Terra Firma, The Gutter, the living gallery, union pool, Wayward Social, what's happening, Word
0 Comments