(Sponsored)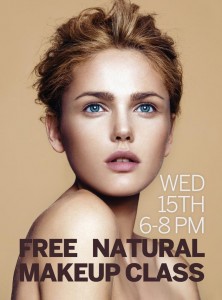 * Natural Makeup Class @ Brooklyn Groove (102 B Nassau Ave) 6-8:30pm, Wednesday 1/15, FREE, Let's be real, no one wants a face caked with makeup. It's not a good look, unless your a drag burlesque performer (in which case, we'll make an exception). Lucky for us, professional makeup artist, Tara Schwartz is hosting this workshop to share her insider tips and tricks to create flawless makeup, using special natural color cosmetics. Bring your ladiez and perfect that glowing, swoon-inducing au natural look, More Info
Did we mention it's FREE!?
There are more events in our weekly calendar. Submit Greenpoint events, too!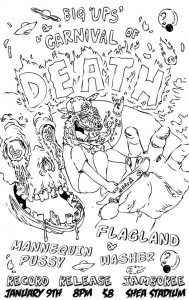 THURSDAY 1/9

♦ #SELLOUT @ Reverse Gallery (28 Frost St) 1-4pm (and Friday 1/10 opening party 8-11pm), FREE, This five-day event will feature artists who aim to take on the fine art world, showcasing the artistry of selling out, featuring a specialty sellout cocktail (made of money and shame?), with free mimosas on 1/11 & 1/12 from 2-4pm, More Info, RSVP
☺ Abemixture's Fancy Four Year Anniversary Soiree @ Legion (790 Manhattan Ave) 7:30-9:30pm, FREE, AbeMixture is celebrating its 4th Bday with music, comedy and free pizza, wear your fanciest duds for a chance to win best dressed (= free booze), RSVP
♫ Big Ups LP Release with Flagland / Mannequin Pussy / Washer @ Shea Stadium (20 Meadow St, Bushwick) 8pm, $8, RSVP
♫ The Shondes supporting Against Me! @ Music Hall of Williamsburg (66 N 6th St) 8pm, $20, BUY TIX, RSVP Continue reading →
Category:

Events, What's Happening?
Tags:

art openings, benefit shows, dinosarus, events, free and cheap, haiyan relief, mario kart, music art, Openings, partying, receptions, things to do, what's happening
0 Comments