Receive What's Happening? via email!


There are more events in our weekly calendar. Submit Greenpoint events, too!
WEDNESDAY 5/8
* Let's Build A Garden For Greenpoint @ Diamond Bar (43 Franklin St) 7-10pm, FREE, Join the 61 Franklin St Garden for a fundraiser to build a community garden, bring donations  – including tools, 20% of the bar sales donated, RSVP
♫ YVLTRS / Black Salad / Del Guapo @ Big Snow (89 Varet St) 8pm, $7, RSVP 
* Brooklyn Brewery Night @ Barcade (388 Union Ave) Starting at 4pm, Celebrate Brooklyn Brewery's 25th Birthday with a very special tap lineup, RSVP
♦ Q and Y: A Brief Comedy About Death @ Silent Barn (603 Bushwick Ave) 8pm, $8, Play written and directed by Theresa Buchheister, after/during the show you can drink, get haircuts, buy records, look at art, hang out in the garden, make out in the corner!RSVP
♫ Height / Eze Jackson / Handjob Academy / Zebra Baby @ Death by Audio (49 S.2nd St) 8pm, $7, More Info
♦ Greenpoint Gallery Night @Various Galleries, 6-9pm, FREE, As art fairs bustle away at opposite ends of the East River, over a dozen galleries open their doors, After party 9pm at Coco 66, RSVP, download map HERE
♦ Portals: A Series @ The One Well (165 Greenpoint Ave), 7-10pm, FREE, The One Well & HollyBear present a collection of mixed media works for your viewing pleasure, More Info
☺An Evening of Music & Comedy @ Death by Audio (49 S.2nd St) 8pm, $10, Comedians Chris Gethard & Dave Hill, music by Shellshag / Swearin' / Black Wine, RSVP
♫ Heaven / Tennis System / Nightmare Air / Dead Leaf Echo @ Union Pool (484 Union) 8pm, $8, RSVP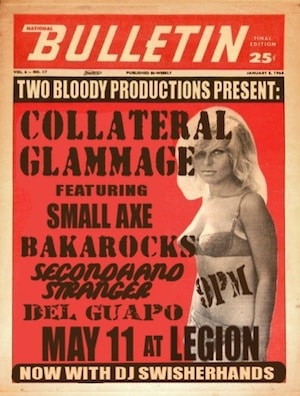 SATURDAY 5/11

*Greenpoint Earth Day 2013 Festival @ McCarren Park (766 Lorimer St) 11am-5pm, FREE, Recycle your electronic waste, eco-friendly and educational displays, health & wellness tips & demos, arts & crafts, children's activities, live music, More Info
• Vegan Shop Up @ Pine Box Rock Shop (12 Grattan St) Noon-6pm, FREE, Vegan Shop-Up is NYC's only all vegan pop-up market featuring the best small businesses around, More Info
• Public Walk Up Paddling @ Broadway Stages Boatyard (49 Ash St) Noon-4:30pm, FREE, Short Canoe & Kayak paddles in Creek, More Info
♦ 2013 Arts Happening Series: A Guest In The Cavern @ Northside Town Hall (132 Wythe Ave) 6-10pm, FREE, A multi-media installation by Jesse Gelaznik, featuring video art by Rachel Blackwell, Dirty Churches will perform Music for Mirrors, RSVP
• 5 Boros Basketball Fundraiser @American Legion 1771 (519 Leonard St) 7-11pm, $30, Great food, Live entertainment and dancing plus raffles! More Info
♫ Twin Sister / Empress Of / RElyse @ Silent Barn (603 Bushwick Ave) 8pm, $10,
RSVP
♫ Charlie Nieland / Oh Halo / Hard Plastic Buttons @ Bar Matchless (577 Manhattan Ave) 8pm, $8, RSVP
♥ Collateral Glamage @ Legion (790 Metropolitan) 9-4am, FREE, favorite local bands and dj's for this monthly all night dance party, rock and roll, cheap drinks! RSVP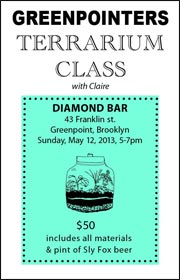 SUNDAY 5/12
• Roots 66 @ Coco66 (66 Greenpoint Ave) 4-11pm, DJs Autovac & Subtexture will be spinning Roots, Rockers and Rocksteady, happy hour until 8pm, RSVP
• Greenpointers Terrarium Class with Claire @ Diamond Bar (43 Franklin St) 5-7pm, $50, all supplies are provided to make a gorgeous terrarium to take home, plus a Sly Fox beer! Buy Tix
♫Marissa Nadler/Guy Blakeslee/Jozef van Wissem @Saint Vitus (1120 Manhattan Ave) 8pm, $12, RSVP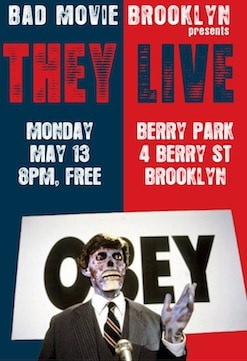 MONDAY 5/13

•Bad Movie Brooklyn presents They Live @ Berry Park (4 Berry St) 8pm, FREE, a fun, totally kickass John Carpenter flick packed with social commentary that's just as relevant today as it was in 1988, RSVP
☺Broken Comedy @ Bar Matchless (577 Manhattan Ave) 8:30pm, FREE, Tevor Noah / George Gordon / Danny Kallas / Rob O'Reilly, More Info
TUESDAY 5/14
* Bootleg Cinema – The Great Silence w/live set by Morricone Youth @ Brooklyn Rod & Gun (59 Kent Ave) 8pm, One of the best and most unusual spaghetti Westerns ever made accompanied by a live musical performance, RSVP
*  Greenpointers' Pick
♫ Music
♥  Pheremones likely
♦  Art Event
☺ Comedy Event
#  Foodie Event
Category:

Events, What's Happening?
Tags:

art events, artisan markets, Brooklyn, Brooklyn Brewery, Bushwick, comedy shows, community events, Concerts, dance party, Earth Day festival, events, film screenings, free events, Gallery Openings, Greenpoint, Music, night life, theatre, vegan, Williamsburg
0 Comments