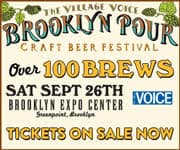 [sponsored] 5th Annual Village Voice Brooklyn Pour Craft Beer Festival
Brooklyn Expo Center, 72 Noble St,
Saturday 9/26, 3pm, $55
Featuring over 100+ craft brews from New York and beyond, aficionados can sample the best seasonal, micro, and reserve brews, plus enjoy food, entertainment, and more! Buy tix
There are more events in our weekly calendar. Submit Greenpoint events, too!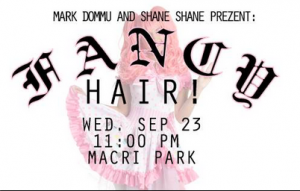 WEDNESDAY 9/23
* Who Is Bozo Texino? @ Light Industry (155 Freeman St) 7:30pm, $8, A poetic inquiry into the aesthetics and culture of hobo graffiti, More info
♫ Fancy Hair @ Macri Park (462 Union Ave) 11pm, FREE, With DJs Dicap and Timothy Allen Living, shows, tattoos, and more, RSVP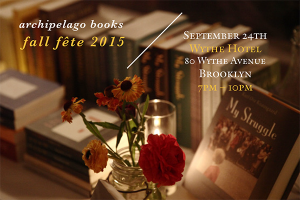 THURSDAY 9/24
* Archipelago Books Fall Fête @ Wythe Hotel (80 Wythe Ave) 7pm, $60, Celebrate world literature and independent publishing with an open bar, appetizers, live music, raffles, gift bags, and good books, More info
# Aaron Burr Cider Celebration @ North Brooklyn Farms (320 Kent Ave) 7pm, $95, A sampling of Aaron Burr ciders will be paired with a bountiful five-course farm-to-table meal, Buy tix
☺ Drunk Science @ Annoyance Theater (367 Bedford Ave) 9:30pm, $5, Three intoxicated comedians compete to present the best scientific dissertation to a panel of real scientists, More info
* Out of the Ash @Glasshouse ArtLifeLab (246 Union Ave) Opening night 8pm, $25 An immersive, multimedia theater experience that transports guests to a fantastically maniacal realm where a cyclically diabolical house party takes place. Buy tix
Category:

Events, What's Happening?
Tags:

archipelago books, aviv, Baby's All Right, battery harris, Brooklyn Bowl, Glasshouse, Light Industry, macri park, Muchmore's, north brooklyn farms, over the eight, pete's candy store, Saint Vitus, spectacle theater, the creek and the cave, Triskelion Arts, union pool, wythe hotel
0 Comments