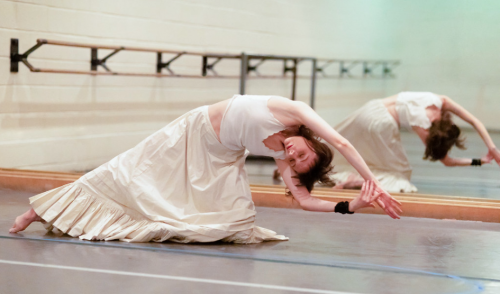 The press release for Greenpoint creative Alison Clancy's new performance reads "post-punk mystic meets Wagner in ritualistic dance" — tickle me intrigued! A dancer, singer, and all-around-movement artist (and educator), Alison has worked in institutions big and small, from the Metropolitan Opera and Guggenheim Museum to dive bars and on Reality TV. And while her modern methods may seem to clash with the classical music she performs to, they are perhaps more aligned than one may think: Wagner, and his contemporaries, were the envelope pushers of their day; their charged, erotic, and emotional scores demanded more of their audiences, and performers, than what may have been the norm. As such, Clancy's dance honors and uplifts these heightened states, creating a unified piece of singular performance. She recently made a prestigious solo debut in the premiere of the Met's new production of Richard Wagner's Der Fliegende Holländer (The Flying Dutchman) Here, she speaks about this new show, which though sadly cancelled due to the coronavirus will also find a home on screens.
Greenpoiners: You've lived in Greenpoint for a number of years. What attracted you to the neighborhood and how has it treated you as a resident and artist? 
Alison 
Clancy: 
I moved here for a boyfriend, but I stayed because I love the mellow energy. It feels like a nice downshift from Manhattan, but there are still so many beautiful people and active culture.