The Little Glass Slipper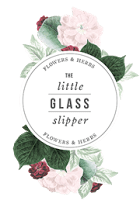 The Little Glass Slipper is a local shop offering local and seasonal flowers, herbs, fruits and pods. We specialize in providing unique non traditional flowers, home decor, gifts, wedding decor and herbal related items. When in need of a beautifully potted plant, a gorgeous vessel for flowers, a great last minute gift or a beautifully made bouquet, we can help!
We also carry low maintenance indoor plants.
ADDRESS
200 Franklin St.
Brooklyn, NY 11222
TELEPHONE
(347) 721-3280
HOURS
Mon-Fri | 11am-7pm
Sat | 10am-5pm
Sun | 10am-3pm (spring-winter)
Website | Facebook | Instagram | Twitter | Pinterest