Kitty Pride Cat Grooming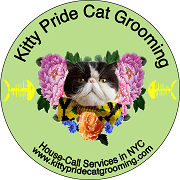 Kitty Pride Cat Grooming is a local feline exclusive house-call service. Cats are groomed in the comfort of their own home with their owner's often sitting close by. We specialize in grooming felines of all breeds, coat length/condtion, temperaments and ages. Our approach is holistic and stress-reduced. Cats are handled compassionately and their owners are given many tips on how to care for their cat in between grooms.
Carolyn Ayala (owner) is a Certified Feline Master Groomer. She was born and raised in Williamsburg. She is a 20 year Greenpoint resident. Outside of cat grooming, she is a Pet CPR & First Aid instructor. Erica Ayala is her partner and herself a Certified Master Cat Groomer as well as a Pet CPR & First Aid Instructor.
TELEPHONE
(347) 397-6093
HOURS
Mon-Sun | 9am-7pm