Halycon Gourmet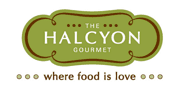 Founded in 2008 by Chef Maria Rizzo and Archie Gianunzio, The Halcyon Gourmet is a full-service caterer, event planner, and gourmet take-out kitchen based in Greenpoint, Brooklyn.
Friends since their early teens, Maria and Archie lived together after college on a street called Halcyon Terrace. Their time there spent cooking and entertaining paved the way for this exciting collaboration of food, design, and truly superb events.
Whether an intimate dinner party, a corporate breakfast/luncheon, or a cocktail and dinner reception for hundreds, The Halcyon Gourmet will ensure that every taste, color, mood and element is perfected.
ADDRESS
202 Banker St.
Brooklyn, NY 11222
TELEPHONE
(718) 349-2882
HOURS
Mon-Fri | 11am-3pm
Website | Facebook | Instagram | Twitter