Greenpoint Fish & Lobster Co.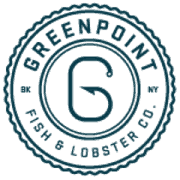 Greenpoint Fish & Lobster Co. believes that sustainable seafood starts with responsibly managed fisheries, transparency and traceability, and well-informed customers. Their goal is to serve as the go-between from our dedicated and responsible seafood suppliers to their sustainably-conscious customers in an effort to provide the highest quality seafood there is while helping to restore our marine and coastal ecosystems in the process.
Available for wholesale and catering – please inquire.
ADDRESS
114 Nassau Ave
Brooklyn, NY 11222
TELEPHONE
(718)349-0400
HOURS
Fish Market
Sun-Thur | 11am-8pm
Fri&Sat | 11am-9pm
Raw Bar/Kitchen
Sun-Wed | 12-9pm
Thur | 12-10pm
Fri | 12-10:30pm
Sat | 11am-10:30pm
Weekend Brunch
Sat&Sun | 11am-3pm
Website | Facebook | Instagram | Twitter