Dar 525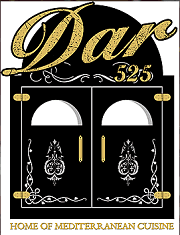 Dar525 offers authentic Mediterranean cuisine.
Our dishes are prepared fresh and served in a genuine, pleasant, and relaxing atmosphere. We also offer a healthy, economically priced menu that is vegetarian friendly.
Guests are treated like family, not just a customer. From our unique bar menu to fresh baked pita bread, we want people to taste true Mediterranean food without ever leaving Brooklyn.
ADDRESS
168 Driggs Ave
Brooklyn, NY 11222
TELEPHONE
(718) 389-0003
HOURS
Sun-Sat | 11am-11pm
Website | Facebook | Instagram | Twitter
Greenpoint Food & Drink: Summer News Round-up (2015)